Skip to Content
Annual HVAC Maintenance Timeline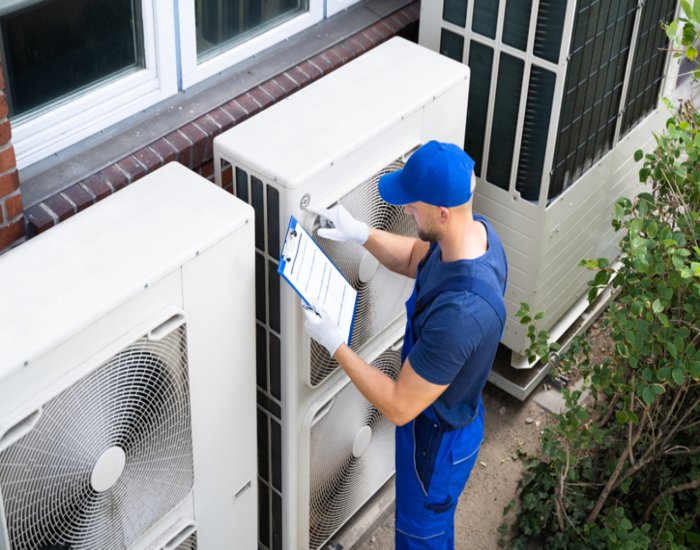 Annual HVAC Maintenance Checklist
The heating and cooling system in your home plays the vital role of maintaining the comfort of your home, no matter the weather outside. Routine HVAC maintenance is important, and your system should be inspected by a professional technician at least once a year. By scheduling an annual HVAC checkup, you can keep your system running at optimal performance and ensure the longevity of the system. Here's what's included:
Air Filter Replacement – This improves the air quality in your home and helps the system to run more efficiently.
Condenser Coil Cleaning – Cleaning these coils can help to conserve energy and prevent mold growth.
Ductwork Inspection – This check is important to detect and seal any leaks.
Thermostat Calibration – This will ensure accurate temperature control.
Lubrication of Moving Parts – Proper lubrication will reduce wear and tear.
Electrical Connections Check – Checking the electrical connections for safety and efficiency.
Blower Component Adjustment – This will optimize airflow.
Coolant Level Check – To maintain optimal cooling performance.
Drain Pan and Line Cleaning – To prevent water damage to the system.
Safety Controls Test – To ensure all safety mechanisms are operational.
Benefits of Annual HVAC Maintenance
Investing in annual HVAC maintenance offers several advantages:
Cost Savings – Routine maintenance can help to prevent costly repairs or inconvenient breakdowns.
Energy Efficiency – Regular maintenance helps to keep your system running at peak efficiency, reducing your power bills and your carbon footprint.
Longevity – As with any mechanical device, routine maintenance and care can increase your HVAC's lifespan.
Safety – Maintenance checks ensure that all electrical components and safety features are in good working order.
Indoor Air Quality – A clean system provides healthier indoor air.
Peace of Mind – With an annual HVAC service contract, you can have the peace of mind knowing that your system is working properly, and that any potential problems can be detected and dealt with before they turn into costly repairs.
Conclusion
In a nutshell, annual HVAC maintenance is not just a recommendation-it's a necessity for the overall health and longevity of your system. With First Call Heating & Cooling by your side, you can expect nothing less than superior service, focused on your specific needs. Our decades of experience and commitment to customer satisfaction make us the best choice for annual HVAC maintenance.
We take care of every detail, from air filter replacement to safety controls tests, ensuring your system functions at its best year-round. The benefits are evident: cost savings, energy efficiency, system longevity, improved safety, and better indoor quality. Plus, our annual maintenance plans and discounts add an extra layer of convenience and affordability.
How to Schedule Annual Maintenance
To schedule your annual HVAC maintenance with First Call Heating & Cooling, simply contact us to set up an appointment. Be sure to ask about our annual maintenance plan and any available discounts. We offer various options to suit your needs, all aimed at helping you manage the cost of your HVAC maintenance effectively. We are more than just an HVAC service provider; we're your partner in maintaining a comfortable, efficient, and safe home environment. Don't wait until your system breaks down to give it the attention it deserves. Schedule your annual HVAC maintenance with First Call Heating & Cooling today and invest in peace of mind.
Since 1939, First Call Heating & Cooling has been a trusted name in HVAC services in Portland, OR, and the surrounding areas. With over 80 years of experience, we are a full-service residential heating and cooling company committed to customer satisfaction, quality, and integrity. Our technicians are licensed, bonded, and BBB-accredited. We offer expert HVAC services including same-day maintenance for all types of systems-gas, oil, or electric, and across all brands. From top-notch installations of new HAVAC equipment like furnaces and air conditioners to services that enhance indoor air quality, we've got you covered. We also provide reliable heating oil delivery. We're committed to sustainable business practices and recycling, earning us a reputation for quality and trustworthiness. For all of your HVAC needs, call First Call Heating & Cooling at 503-231-3311.